This unique Moonshine Jug is handcrafted stoneware by KOZ and is the perfect container for SaucyJo's hot sauces. The Moonshine Jug holds 24 ounces of your favorite SaucyJo hotsauce. Choose from 4 different sauces. You may choose the no sauce option and put whatever you wish into the jug.
Each sauce is layered with flavor and made the old world way, with a new world twist.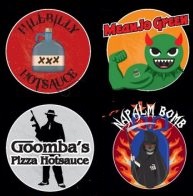 Hillbilly Hotsauce is a unique blend of peppers and spices aged in an oak barrel. Medium Spicy.
Mean Jo Green Sauce is a fiery salsa verde-like sauce made with a blend of hot green peppers and herbs.
Goomba's Pizza Hotsauce is specially created by JoJo for pizza but it's fantastic on anything!
Napalm Bomb creates an explosion of flavor made with a blend of Carolina Reaper, Ghost, and Habanero peppers with herbs.